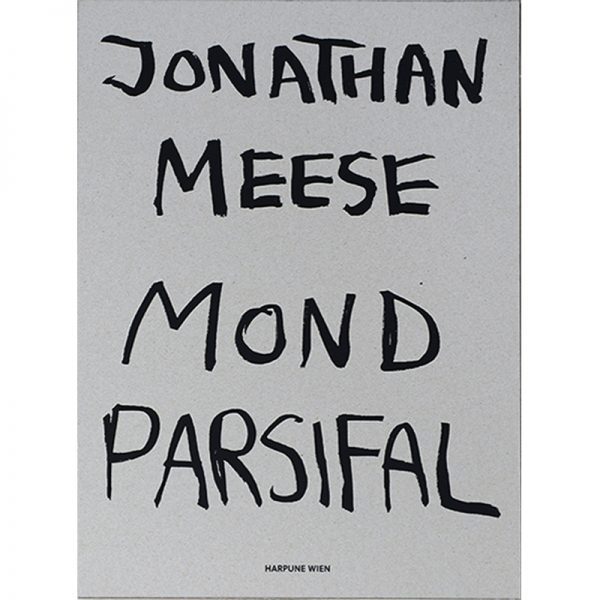 JONATHAN MEESE
Mondparsifal
ARTIST BOOK original prints
Description
MONDPARSIFAL
Artist Book in two parts
format 34,5 x 47 cm / 13.6 x 18.5 inch 18 woodcuts, 15 relief prints
and 92 collages –
partially overworked by Jonathan Meese
edition of 20,
signed and numbered 1 – 20 + 3 A.P.
suite of 4 includes all 28 original prints on 34 g Japan paper
signed and numbered i – iV + 2 A.P.
both parts are combined in a silk screen printed folder bound in clouded marble and packed in a silk screen printed grey board box
the woodcuts, drawings and collages were created between June and september 2017 and were printed by Sarah Bogner/Neue Satz Wien in Vienna in 2017.
This Artist Book is published on the occasion of Jonathan Meese's staging of the opera 'Parsifal' – "MONDPARSIFAL ALPHA 1 – 8 (ERZMUTTERZ DER ABWERZ)", during the wiener festwochen in June 2017 and "MONDPARSIFAL BETA 9 –13 (VON EINEM, DER AUSZOG DEN "WAGNERIANERN DES GRAUENS" DAS "GEILSTGRUSELN" ZU ERZLEHREN…)" at Berliner festspiele/immersion in october 2017.
_________________________________________________________________
MONDPARSIFAL
zweiteiliges Künstlerbuch
im Format 34,5 x 47 cm
18 holzschnitte, 15 Klischeedrucke
und 92 kopierte Collagen – teilweise mit Zeichnungen und Collagen überarbeitet
in einer Auflage von 20 arabisch nummerierten und signierten Exemplaren + 3 A.P.
vier weitere Exemplare enthalten zusätzlich
eine Suite von allen 28 Einzelgrafiken
auf 34g Japanpapier,
signiert und römisch nummeriert von I – IV + 2 a.P.
beide Teile sind in einer im Siebdruck bedrucken Mappe aus Wolkenmarmor zusammengefasst und in einer bedruckten Graukartonkassette verpackt.
die Holzschnitte, Zeichnungen und Collagen entstanden zwischen Juni und September 2016 in Berlin und wurden 2017 von Sarah Bogner/ Neue Satz Wien in Wien gedruckt.
In »Mondparsifal« zeigt Jonathan Meese eindrucksvoll seine künstlerische Auseinandersetzung mit der berühmt-berüchtigten letzten Wagneroper. In kräftigen neuen Holzschnitten, Collagen und Zeichnungen verarbeitet er die Figurenwelt Wagners zu seinem eigenen mythologischen Kunstkosmos und zeigt Parsifal, Kundry und Co. zwischen Zardoz, Wickerman und Humpty Dumpty auf einer zukünftigen Mondbasis!
If you are interested in this edition please contact us