Moby Dick Filet is our longest running and most exciting publishing experiment – We cut the famous novel about Captain Ahab's hunt for the white whale into its 137 chapters and publish them chapter by chapter as a kind of dime novel, but not chronologically. The artist chooses a chapter to work on and the only requirement is that Herman Melville's text appears in some form and remains legible. The chapters are published unbound – so that when the project is finished they can be bound as a multi volume book and the Great White Whale is whole again!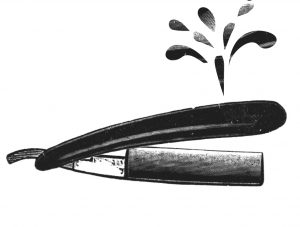 »Moby Dick Filet« is an ongoing artist-book edition of Herman Melville's magnificent novel »Moby Dick« in the original English version. In order to do the illustration of this many-voiced book justice, each chapter is illustrated by a different artist and is published achronologically in a limited edition of 460 copies.

Specifications:
12 – 24 pages
14.5 x 19.9 cm / 5.83 x 7.83 in. offset print
unbound, folded, numbered
with a letterpress printed envelope
460 numbered copies per chapter
»Moby Dick Filet« is also available by subscription.
Laurent Ajina
Wolfgang Becksteiner
Madeleine Boschan
Veronique Bourgoin
Olaf Breuning
Matt Dillon
Christian Egger
Karin Fisslthaler
Barry Gifford
Kolja Gollub
Gudny Gudmundsdottir
Hanakam & Schuller
Siggi Hofer
Andy Hope 1930
Marcel Hüppauff
Herwig Kempinger
Ivo Kocherscheidt
Moussa Kone
Maja Körner
Aylin Langreuter
Erich Lessing
Constantin Luser
Jonathan Meese
Christoph Meier
Ute Müller
Kim Nekarda
John Newsom
Raymond Pettibon
Lukas Pusch
Berthold Reiß
Sybren Renema
Anne Rößner
Christian Rothmaler
Sven Sachsalber
Marusa Sagadin
Adam Saks
Peter Sandbichler
Emanuel Seitz
Hans Schabus
Philipp Schwalb
Ezara Spangl
Rainer Spangl
Frank Stürmer
Alexander Tovborg
Florian Unterberger
Francis Upritchard
Grace Weaver
Ulrich Wulff