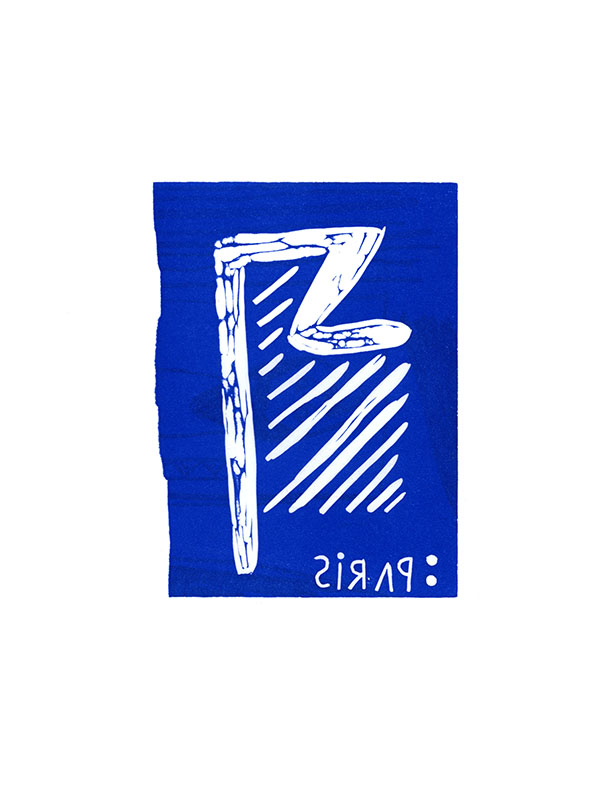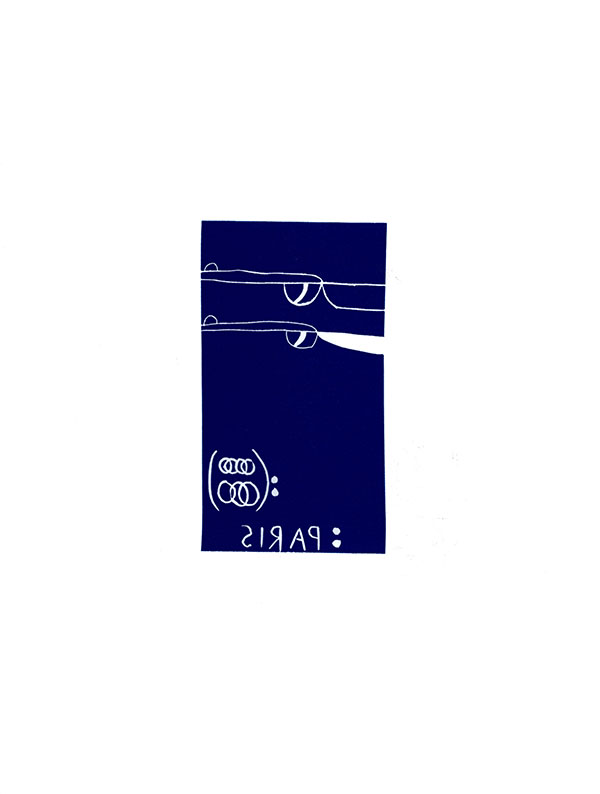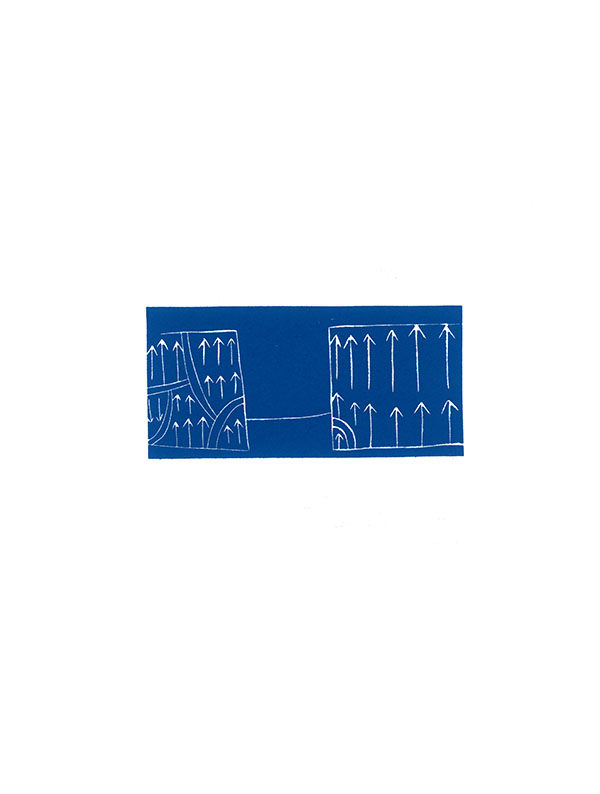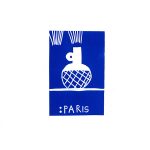 TAL R
PARIS:
ARTIST BOOK – 83 original Linocuts by Tal R
Description
PARIS is an exhibition
PARIS is an index
PARIS is a merry-go-round
PARIS is a formula
PARIS is a language
Tal R's linocut edition is a real eye-catcher: The 83 original graphics are printed in countless shades of blue on semi-transparent washi paper. The sheets have a total length of more than 25 meters altogether – they are an entire exhibition, a huge room in blue, the whole Tal R universe in one box! With :PARIS, Tal R traverses his oeuvre: the keyhole, the flag, the volcano and the »Altstadt Girl« stand along- side new ornamental and schematic elements from the current painting series »:this is not Detroit«* and »Pink road through forest«**. The edition functions like an index, like a merry-go-round that connects the images of the past with those of the future. In :PARIS the title is present on almost every sheet of paper, leading the viewer through the imaginary city like a recurrent graffito. The subjects of the prints reveal as many variations as there are expectations, visions and desires connected to this word, this city, this idea :PARIS Painting and drawing, according to Tal R, always come from the outside world, separated only by a colon – a colon signifies that something comes after it. Painting always revolves around something that is about to happen – there is a : and then the painting comes. Thus the colon becomes a magical mirror, through which the world becomes pictures and pictures become language. This edition unfolds the whole alphabet of Tal R – whose works are often situated around the fine line between text and image. Just as alphabetic characters were once created out of images, he creates images from characters here. :PARIS is the new Tal R edition by Harpune.
Specifications:
83 linocuts printed by hand
in various shades of blue
on 48g Washi paper
paper format 41,5 x 30,8 cm (ca.16,3 x 12,1 inch)
plate format ranging from 12 x 9cm to 30 x 21cm (4,7 x 3,5 to 11,8 x 8,3 in.)
edition of 18 + 2 A.P numbered and signed
each edition has its unique range of different shades of blue
in a silk screen printed archival box
*shown in May 2018 at the Museum of Contemporary Art Detroit (MOCAD)
**Tal R, »Pink road through forest«, 3/12 – 4/27/2019 at VNH Gallery, Paris.
_________________________________________________________________
PARIS: ist eine Ausstellung
PARIS: ist ein Index
PARIS: ist ein Karussell
PARIS: ist eine Formel
PARIS: ist eine Sprache
Die neue Linolschnittedition PARIS: von Tal R begeistert auf den ersten Blick:
Die 83 Originalgrafiken sind in unzähligen Blautönen auf halbtransparentes Japanpapier gedruckt. Aneinandergereiht haben die Blätter eine Länge von mehr als 25 Metern – sie sind eine gesamte Ausstellung, ein riesiger Raum in Blau, das ganze Tal R-Universum in einer Box!
Mit PARIS: wandert Tal R durch sein Werk: Das Schlüsselloch, die Flagge, der Vulkan und das Altstadt Girl, stehen neben neuen ornamentalen und formelhaften Elementen aus den aktuellen Bildserien »:this is not Detroit«* und »Pink road through forest«**. Die Edition funktioniert wie ein Index, wie ein Karussell, das die Motive der Vergangenheit mit denen der Zukunft verbindet. In PARIS: ist der Titel auf fast jedem Blatt präsent und führt den Betrachter durch die imaginäre Stadt wie ein immer wieder auftauchendes Graffito. Die Motive der Drucke zeigen so viele Variationen, wie es Erwartungen, Bilder und Sehnsüchte zu diesem Wort, dieser Stadt, dieser Idee PARIS: gibt.
Malerei und Zeichnung, sagt Tal R, kommen immer aus der Außenwelt, es ist nur ein Doppelpunkt dazwischen – ein Doppelpunkt bedeutet, daß gleich etwas folgt. In der Malerei geht es immer darum, daß gerade etwas im Begriff ist zu passieren – es kommt ein : und dann kommt das Bild.
So wird der Doppelpunkt zu einem magischen Spiegel durch den die Welt zu Bildern wird und die Bilder zur Sprache. In dieser Edition entfaltet sich das ganze Alphabet von Tal R, der sich in seinen Arbeiten oft auf dem schmalen Grat zwischen Schrift und Bild bewegt. So wie die Buchstaben einmal aus Bildern entstanden sind, lässt er hier Bilder aus Zeichen entstehen.
PARIS: ist die neue Edition von Tal R bei Harpune.
Spezifikationen:
83 Linolschnitte von Hand gedruckt
in verschiedenen Blautönen
auf 48 g Washi-Papier
Papierformat 41,5 x 30,8 cm
Plattenformat von 12 x 9 cm bis 30 x 21 cm
in einer Auflage von 18 Expl. + 2 A.P.. nummeriert und signiert
Jede Mappe hat eine einzigartige Zusammenstellung an verschiedenen Blautönen,
verpackt in einer siebgedruckten Archivbox.
*gezeigt im Mai 2018 im Museum of Contemporary Art Detroit (MOCAD)
**Tal R, »Pink road through forest«, von 12. März – 27. April 2019 in der VNH Gallery, Paris
If you are interested in this edition please contact us