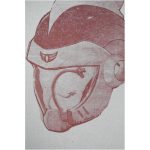 Andy Hope 1930 & Schorsch Kamerun
Am Abend sollte ich die Nacht ertragen /
In the Evening I Was To Bear the Night
70,00 €
Description
64 pages, 16 x 24 cm, text in German and English. Hot metal type and 9 letterpress and 17 offset printed images, with a letterpress printed slipcase, thread-bound, published in an edition of 350 copies
ISBN 978-3-903348-02-8
In the Evening I Was To Bear the Night
Andy Hope 1930
indisputably one of the first artists of the 21st century in light of the early history of the universe, leaves in his wake a series of exhibitions that have blazed an unpredictable trail of construction throughout Europe and the U.S.; he himself sails to the various sites of his publishing and research activities in a replica of the Titanic.
Schorsch Kamerun
certified as one of the 14 best people, once, during a difficult phase, referred to himself as "Gerti, the burgundy-colored dessert plate from 1920s Berlin." This eventually became known within the literary scene, however, so that Kamerun was moved to obliterate all references to this ambiguity. Today, he sees things a bit differently… He therefore considers the text for the joint project with Andy Hope a first offensive reference to his upcoming caustic interventionist schemes.
About the book:
The Hamburg-based writer, director, club owner and lead singer of the band Die Goldenen Zitronen has written a fast-forward cut-up monologue for this book; Berlin-based artist Andy Hope 1930 has provided drawings and collages. Kamerun drifts in the glare of a BlackBerry, sold to him in order that he might calculate his own image of man. Between soldiers, junkies, lay actors and masquerades, he calculates an equilibrium of applause and fine dining. Hope mobilizes the eternal primeval jungle and the artifice of time, the skulls and burning shadows that skulk through the preconscious alongside our perception. Ed Wood, the Manson-beast, the "spirit of tradition," the tortoise Lonesome George, along with some entirely unsung superheroes of text and image inhabit this artist's book.
_________________________________________________________________
64 Seiten, 16 x 24 cm, in Deutsch und Englisch aus der Candida im Bleisatz gesetzt, 9 einfärbige Abbildungen im Buchdruck und 17 Vierfarbabbildungen im Offsetdruck, gebunden in gelbem Leinen, geschützt durch einen bedruckten Schuber. In einer einmaligen Auflage von 350 Exemplaren.
ISBN 978-3-903348-02-8
Am Abend sollte ich die Nacht ertragen
Der Hamburger Autor, Regisseur, Clubbesitzer und Sänger der Goldenen Zitronen hat für dieses Buch einen beschleunigten Cut-Up Monolog verfasst – der in Berlin lebende Künstler Andy Hope 1930 gab Zeichnungen und Collagen. Kamerun bewegt sich im Widerschein eines Blackberrys, der ihm zur Berechnung seines eigenen Men- schenbildes verkauft wurde, er berechnet zwischen Soldaten, Junkies, Laien und Masken das Gleichgewicht von Applaus und Feinkost.
Andy Hope 1930 mobilisiert den ewigen Urzeitdschungel und die Künstlichkeit der Zeit, Totenschädel und brennende Schatten, die im Vorbewussten unsere Wahr- nehmung begleiten. Ed Wood, das Manson-Tier, der "Geist der Tradition", die Schildkröte Lonesome George sowie einige vollkommen unbekannte Text- und Bildsuperhelden bevölkern dieses Künstlerbuch.
Schorsch Kamerun, verbrieft einer der 14 besten Menschen, nannte sich in einer schwierigen Phase "Gerti, der bordeaux- farbene Dessertteller aus dem Berlin der 20er Jahre". Das wurde dann aber in der Literatenszene be- kannt, und Kamerun ließ alle Hinweise auf diese Unklarheit verwischen. Heu- te sieht er die Dinge ein bisschen anders… Und so hält er den Text zur Ge- meinschaftsarbeit mit Andy Hope für eine erste Angriffsreferenz zu seinen kommenden, scharfen Einmischungsvorhaben.
Andy Hope 1930, unbestreitbar einer der ersten Künstler des 21.Jahrhunderts im Licht der Vor- und Frühgeschichte des Weltalls, hat mittlerweile eine Serie von Ausstellungen hinter sich, die in Europa und in den USA eine unbere- chenbare Spur der Konstruktion hinterlassen haben; er selbst segelt in einem Nachbau der Titanic zu den verschiedenen Schauplätzen seiner Publikations- und Forschungstätigkeit.
Delivery time: ca. 5-10 Werktage / approx 5-10 business days